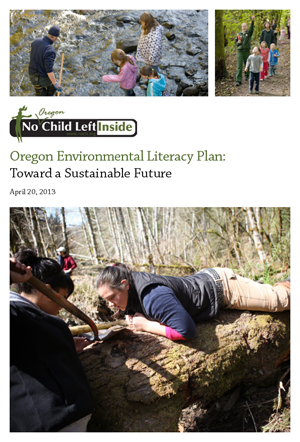 The Oregon Environmental Literacy Plan is a collaborative statewide project, housed at Oregon State University Extension.  Development of the OEL Plan was a comprehensive process that involved many diverse stakeholders and interests.
In June 2009, the Oregon Legislature passed the No Oregon Child Left Inside (NOCLI) Act, to establish a plan for providing students with a continuum of place-based, outdoor learning opportunities. This framework was to ensure that Oregon students graduate as
critical thinkers,
ecological problem solvers
and engaged citizens.
On July 22nd, 2009, Oregon Governor Ted Kulongoski signed the NOCLI Bill into law saying:
". . . the "No Oregon Child Left Inside Act" will provide our youth with classroom instruction about our vital natural resources and an opportunity to conduct field investigations in an outdoor learning setting. This experience is fundamental to our children and will help them develop a sense of stewardship towards Oregon's environment and help them make informed decisions about our natural resources in the future..."
Following the Governor's signature an eleven-member task force, composed of officials from state environmental and education agencies and others, was formed to begin working on developing the OEL Plan. A list of the task force members can be found in the Oregon Environmental Literacy Plan.
In 2011 the legislature-approved the Oregon Environmental Literacy Plan: Toward a Sustainable Future.
The Plan puts forth a vision in which all Oregon students are:
lifelong stewards of their environment and community

willing and able to exercise rights and responsibilities of citizenship

choose to interact frequently with the outdoors

understand multi-faceted relationship to the natural world

well-prepared to address the challenges the future holds
Integrating regular outdoor activity into a student's learning and life experience is integral to achieving this vision.
The Plan has five learning strands that are designed to support the cultivation of environmentally literate students by integrating learning experiences inside and outside the classroom:
Systems thinking

Physical, living and human systems

Interconnectedness of people and the environment

Personal and civic responsibility

Investigate, plan and create a sustainable future
Oregon Environmental Literacy (OEL) Plan: Toward a Sustainable Future