Day-long field trips allow fifth and sixth graders experience the diverse terrain of near-shore environments and take home a new perspective of their coastal home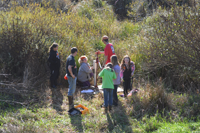 How does the ocean influence you, and how do you influence the ocean?
If you're a fifth or sixth grader living on the coast in Lincoln County, there are few better places to discover this than the Beaver Creek Natural Area, part of South Beach State Park.
Here Oregon State Parks has established a biologically rich learning laboratory where trained staff lead about 120 students each year in hands-on exploration of the near-shore environments.
A 2014 grant from the Gray Family Foundation helped transform the Beaver Creek's welcome center into a state-of-the-art Learning Center. Additions include a native plant nursery, greenhouse, laboratory, and theater.
Students begin at the welcome center, and then have the opportunity to explore a lowland tidal marsh and take water samples back to the lab. Later they can hike up to the highlands and get spectacular views of the Oregon and coast range—all in one day.
Experiencing this diverse terrain firsthand helps students grasp the complexity and connections of near-shore environments, and how past land use decisions have affected the landscape over time.
"Most of these students have never experienced a true outdoor educational program, or understand the functions of their environment in which they live," says Dani Padilla, Park Ranger for South Beach State Park. "This program will help provide the opportunity for students from all incomes and backgrounds to explore and discover the wonders of nature."