Teens in the Umpqua Explorers program gain self-confidence, friendships, and knowledge of the natural world.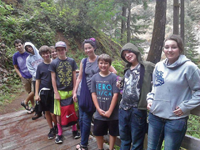 Growing up in the lush Umpqua River Valley, a teenager might take for granted the rich natural heritage in his or her backyard.
The Douglas County Museum aims to change that.
"The museum is all about inspiring our community to see the big picture, and to feel like they're connected to each other and to the environment," says Kelly Hibbert, Museum Education Coordinator.
For the past seven summers, Hibbert has led groups of 13- to 17-year-olds to become museum leaders, teachers and outdoor adventurers through Umpqua Explorers program.
With a grant from the Gray Family Foundation in 2014, the museum was able to provide this program to families free of charge.
Umpqua Explorers learn firsthand the joys of volunteering. The teens run the "free day" at the museum each Tuesday, leading activities with younger kids. They help with the museum's website and outreach to the community.
"I think we are creating lifelong museum visitors," Hibbert says. Several of the youth have even gone on to study history in college.
But it's not all indoors. The eclectic mix of teens—from hunters to computer geeks to youth from the local homeless shelter—find unity on several wild adventures over the summer.
In July 2014, a four-day road trip took 15 teens to Crater Lake, the Newberry National Volcanic Monument, and the Warm Springs Museum.
"Those are things that some of these kids haven't had an opportunity to experience," Hibbert says.
Timber has been the main economy in the Roseburg area, and many children come from logging families. "It's cool to be able to talk about the future of the land in which we live."