Outdoor school is a rite of passage for Crook County sixth graders, who spend five days in fellowship with nature and their new camp 'family.'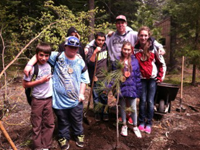 It's a five mile hike around gorgeous Suttle Lake in central Oregon—quite a trek for the sixth graders from the Crook County School District.
But it's all fun at outdoor school. With Bingo cards in hand, the students chart different plan species they find. They spot a bald eagle, then another, and a dramatic chase plays out before them. Even a rotten log comes to life with a careful eye.
For 57 years, the Crook County outdoor school has returned to this same location, the Suttle Lake Camp, to engage about 200 sixth graders in a five-day adventure they'll never forget. Camp life is packed from morning to night with field studies, a ropes course, campfires, skits, and songs. There's really no time to miss mom, dad, or your cell phone. 
At nearby Lake Creek, where native salmon are making a comeback, the students capture invertebrates in nets to gauge the health of the stream. Later they bring graphs, charts, and drawings back to their science classes and compare data to previous years.
The students become foresters for a day at Jack Creek, taking core samples of trees and following a GPS course around the forest. They also study plants right around camp, learning the difference between native, invasive, edible, and medicinal species. They even count bats for the U.S. Forest Service.
Three times a day, they sit down to a family-style meal and talk about the day—something many kids say they don't do very often at home.
"We create a sense of family while we're there," says Lori Meadows, Crook County Outdoor School Director. Meadows has 27 years of outdoor school under her belt, and is herself a sixth grade language arts teacher. 
In fact, the Crook County Outdoor school is entirely directed, taught, and run by the district's sixth grade teachers, making their curriculum seamless when they get back to the classroom. They also recruit about 50 high schoolers each year—many of whom attended the same outdoor school as sixth graders— to be camp councilors.
Meadows says her community has taken an economic hit lately, making outdoor school more difficult to afford for families and the district. Grants from the Gray Family Foundation have helped offset the cost of tuition, provide scholarships, and ensure that every sixth grader who wants to can go.
"We would have never been able to do it without the Gray Family," she says.