One of the Oregon Coast's most beloved summer camps gets a facelift, ensuring many more summers of life-changing adventures.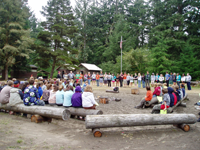 Camp Kiwanilong is a place where kids still jump into lakes, take archery lessons, sing around the campfire and come home with nicknames like "Roadrunner" and "Quack."
Summer after summer, kids return to "Camp K" to experience adventure, friendship and a strong sense of belonging—all in a rustic, natural setting. 
Located southwest of Astoria, Camp Kuwonilong is nestled on 270 acres between Long Lake and a wooded area bordering the mighty Pacific Ocean.
During the summer, it hosts about 100 campers each week aged 7 to 14. Some groups have been coming for nearly 40 years, including OMSI and Wilson Elementary School in Corvallis.
While its Depression-era buildings add to the camp's rustic charm, many of those structures were in need of serious repair. With funding from the Gray Family Foundation in 2014, the beloved old camp was given a facelift.
"The Gray Family Foundation grant just came at a marvelous time," says Camp Kuwonilong Board Member Marge Huddleston. "We had a long list of things we need to do, but we were so far behind."
With a lot of hard work this year, Camp K is looking better than ever. Two gorgeous new double doors greet visitors to the camp's central gathering place, Boyington Lodge. The lodge's1936 brick fireplace was fitted with a wooden insert to ensure many more safe nights telling stories around the fire. And the lodge's windows and screens were replaced.
"Good by mosquitos and smoke!" Huddleston says of the lodge improvements.
Grant funding also allowed the camp to repair a compromised building used for food storage, refurbish three cabin foundations and get new bunk beds, among other upgrades.
"They're in really excellent shape now," Huddleston says. 
Not afraid of hard work, Huddleston and the rest of Camp Kiwanilong's volunteer board leveraged the Gray Family's matching funds to nearly double the gift—raising about $60,000 in all to complete needed repairs by fall 2014.