Linn-Benton Salmon Watch Succeeds at Educating Local Area Students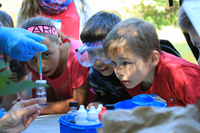 Sweet Home, OR | September 30, 2015 – A group of students from Timber Ridge School in Albany stands gathered around an outdoor laboratory temporarily setup along the banks of the South Santiam river. They watch and listen to their leaders for the day, volunteers from OSU and the City of Albany, as they lead the wide-eyed group through testing water samples for dissolved oxygen, temperature, pH, and turbidity. Minutes later they are discussing how these parameters are linked to conditions in the watershed and how they affect the aquatic habitat including the health of salmon.
Salmon Watch is an experiential field trip program that teaches young people about salmon and healthy watersheds.  Traditional Salmon Watch learning topics are: Salmon Biology, Macroinvertebrates, Water Quality, and Riparian Areas.  Similar Salmon Watch programs happen all over the Pacific Northwest and are tailored by various local organizations in partnership with schools and volunteers.
The Linn Benton Salmon Watch program is targeted to 4th – 6th grade students in Linn and Benton Counties.  Field trips take place on the North and South Santiam Rivers in September and on the Alsea River in late October.
"Building familiarity with local salmon runs and where their family's drinking water comes from is critical to becoming responsible citizens and increasing quality of life for everyone." said Bessie Joyce, Youth Program Coordinator for the Calapooia Watershed Council. "Plus, kids absolutely love this field trip and the science learning happens naturally along the way – we're extremely fortunate to have volunteers and the support of our donors as to make this all come together."
Towards the end of the day each student from Timber Ridge has spent about 40 minutes at each of the four stations along this section of the South Santiam. With smiles all around and a few soaked sneakers the students gather around for a wrap-up discussion and Q&A where they express their favorite parts of the day. "These local organizations partnering up with schools to help teach science to students in the outdoors is key to improving education and supporting teachers."
Great effort goes into each Salmon Watch program year after year and its success relies on the dedication of volunteers, supplies donated from corporate sponsors as well as funds allocated specifically for the program. To get involved – or to donate – please visit our website at www.lbsw.org for more information.
About Linn-Benton Salmon Watch
The Linn Benton Salmon Watch program is coordinated by a committee representing the Calapooia Watershed Council, South Santiam Watershed Council, Mary's River Watershed Council, Siuslaw National Forest, Trout Unlimited, Benton Soil and Water Conservation District, and OSU Sea Grant.